Cycling for Beginners: So You Want to Start Cycling? What You Need to Know
We're expert cycling travelers and we love helping you. BookCyclingHolidays is the largest cycling travel website with 26 unique listings in 236 destinations around the world.
Discover Cycling Holidays now
Interested in taking up cycling? Whatever your reason for jumping on the cycling bandwagon may be, rest assured, we've got you covered. On this post, we're sharing plenty of useful information that will help you get started on the right foot as well as insights on the abundant benefits that you will be reaping from this exciting sport!
It should come to no surprise that a sedentary lifestyle can increase the likelihood of ailments. Hence, in order to live a truly healthy life, it's crucial to stay physically active. If you happen to be looking for an easy, low impact yet effective aerobic exercise to maintain a good level of health and fitness, cycling may just be what the doctor ordered.
Cycling: The Benefits
If you're still a tad skeptical about whether cycling would be an ideal fit, allow us to share some great reasons that may just banish your doubts once and for all. For starters, it would only take 2 to 4 hours per week for you to improve your overall health. Need more convincing? Here's a list of some of the top positive effects of a regular cycling routine can have on your body, mind, and soul:
It increases stamina and cardiovascular fitness
It promotes weight loss
It improves the mobility of joints
It strengthens bones
It increases muscle strength as well as flexibility
It helps to improve posture and coordination
It increases level of energy and reduces fatigue
It reduces the likelihood of anxiety and depression
It enhances the ability to focus
Image credit: Indoorcyclingbenefits.com
The Basics: How to Choose the Right Bike & Equipment
Now that you've taken the leap of faith and are ready to start cycling, you are probably wondering what type of bike (and equipment) you should set your eyes on as a beginner cyclist. With a wide array of bicycles to choose from, narrowing down the selection can prove to be overwhelming. Below are a couple of questions that will help you find one that best fits your needs and preference:
What type of activity or activities will you be using your bike for?
What is your ideal bike frame size?
How much are you willing to spend?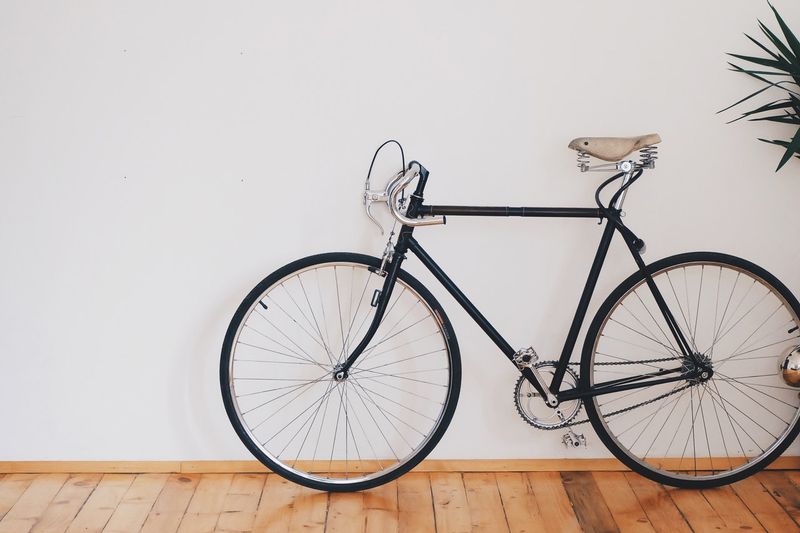 Types of Bicycles
This may sound pretty straightforward but one of the very first things you need to know for sure before purchasing a bike is what type of activities you'll most likely using your bike for. Begin by asking yourself the main reasons why you want to start cycling.
For example, if you're an adrenaline junkie and are looking to go on an off-the-beaten path biking adventure, you probably want to stay steer clear of cruisers. Alternatively, those who are looking to use their bike for casual strolls rather than a way to commute, may not find city bikes to be quite the right fit.
An overview of the range of bicycles sold in general retailers (grouped by type of activities it's made for):
City/Road bikes – Ideal for commuting in the city (urban friendly). It is made for smooth, paved roads and are built for speed. Their tires are usually narrow and equipped with drop handle bars.
Mountain bikes – Made specifically for off-road adventures. If you are planning to go mountain biking often, suspension for increased shock absorption is highly recommended. Unlike city bikes, mountain bikes have a larger 'knobby' tires for traction and extra comfort, flat bars for better control, and low gears that provide assistance when climbing hills.
Hybrid bikes – A combination of the city and the mountain bike, these are hybrid bikes are perfect for those who are looking to utilize their bike for both commuting and off-road biking. That said, keep in mind that due to its dual purpose, it may not be as built for speed as a city bike and not built as rugged as 'pure' mountain bikes.
Cruiser bikes – Are you looking for bikes that are built for comfort and ideal for strolling around at the park or around your neighborhood? If the answer is "yes!", then cruiser bikes are up your alley. They usually have wide, balloon-like tires and upright handle bars. Most have either a single speed or 3-speed setting.
Comfort bikes – Equipped with softer saddles, lower positioned gears, and a more upright riding position, cruisers can also fall under the specialized mountain or hybrid bikes
Image credit: Sacredrides.com
There are many other types of bicycles available in the market other than the ones I have listed above. However, these five represent those that are most suitable for beginners. Looking for a more comprehensive list? Check out this helpful visual list of bicycle types.
The Essentials: Gears for Beginners
Think a bike is the only think you'll need to begin cycling? Think again! If you want to stay safe and start cycling off in the right foot, you'll also be needing these basic yet necessary accessories:
A quality helmet – Whether you're planning to do a bit of mountain biking or cruising along the broadwalk, it's truly better to be safe than sorry! A helmet is, hands down, the most important biking accessory you'll ever purchase. While there's no need to purchase a top of the line cycling helmet that may run you upwards of USD 250, be sure that you choose a quality helmet (usually comes with a price tag of USD 30 – 75) that is adjustable and will adequately protect your head in case of accidents. Do not buy a used helmet! Also, keep in mind to replace your helmet after 3 years as the foam would likely to have deteriorated and would not be so effective.
A multi-tool – As a cyclist, I can attest that a simple V5-tool definitely comes in handy. No matter how careful you are with your bike, a quick repair is inevitably needed. Small enough to put in your pocket or bike's saddle bag, it's perfect for adjusting your handle bar or saddle on the fly. Alternatively, if you'd like to purchase a full repair kit, it will also come in handy as a complete kit would usually include tire levers, a pump,a saddle bag and a glueless patch in addition to a multi-tool.
Lights & reflectors – While some bikes come with built in lights and reflectors, should the one you selected does not include them, it's highly recommended that you purchase them too! These are especially helpful if you plan to ride your bike during the night often.
A lock – Whether you're planning to go riding in bike trails or in the city, you want to minimize the chances of your bike getting stolen – having a sturdy bike lock or lock chain will do the trick. Be sure to lock your bike through the frame and not through the wheels.
Image credit: Eta.co.uk
Got your eyes set on mountain biking? As you may already know, you'll need more equipment than if you plan to merely commute or cruise with your bike. Here's a list must-have mountain biking gears for beginners you should consider investing on!
Cycling: Frequently Asked Questions
I'm sure you still have a couple of questions in mind that I have yet to cover above. So, here's a list of FAQ's that I previously asked to other cyclers before getting started on my own biking adventure:
How do I find out the ideal bike frame for me?
When I was 7 years old, I made the mistake of trying out a neighbor kid's bike that is far too large and tall for me. As a result, though I was able to ride it for a while, since the size and frame of the bike was far too large for me, I couldn't steer it properly and ended up hitting a rugged (outdoor) wall. Though this may sound silly, it illustrated a 'good' example as to how important it is for us to choose a bike that perfectly suits our frame so we can cycle safely and make the most of our time on the bike.
Use this awesome calculator to find out your suitable bicycle frame size. Alternatively, note that the size of the frame should be about .65 times your inseam. So, if you have an inseam of 29", for example, you'll need to pick a bike with 19" frame.
What are the main (road) cycling positions?
There are 3 main road cycling positions. They are:
Neutral – This is the most common position where your hands are placed on the top part of the handlebar where you have easy access to the brakes and shifters.
The 'drops' – Achieved by lowering your torso and placing your hands on the C-shaped part of the handlebar (also known as 'the drops). It is useful when descending or when riding through steep inclines.
Standing – As the name suggests, this position comes in handy when going uphill or when bikers need to rest their muscle and soft tissues.
Image credit: Shawna Beaudet
What is the recommended cycling speed for beginners?
This depends on many variables such as type of bike, activity (race biking, cruising, etc.), and fitness level. When it comes to race cycling, the usual beginners speed ranges from 10 – 16 mph. After about 2 months of consistent training, you will be able to gradually increase your average speed.
Why do bikes have various gears? What are they for?
Many beginners find the gears to be the most intimidating part of their bikes. However, you have no need to worry as bike gears exist for the same reason they exist in cars which is to let the 'engine' work at its most efficient and comfortable speed. To get acquainted with the different types of gears offered on your bike, it is best to test them out on a flat, quiet road or parking lot first before trying them out in some hilly or inclined surfaces.
Why do some bikes have flat and while others have drop handlebars?
Flat handlebars allow for a more upright position which makes it more comfortable for leisure riding – or commuting. It also gives better control on rough or hilly surfaces which is why it's a favorite amongst mountain bikers. Drop handlebars however, are ideal for road racing. It is especially useful as it offers at least three hand positions which allows race bikers (who would need to bike for multiple hours at a time) to move around when they get uncomfortable or tired of one stance.
Would I need suspension on my bike?
Unless you're planning to go mountain biking or off-road biking, bike suspension is not necessary. If you're planning to mostly cruise or commute with your bike, feel free to stick with an unsuspended bike.
---
Ready to embark on your very first cycling adventure? Browse through, find, and book the perfect trip from a wide selection of cycling holidays for beginners at BookCyclingHolidays.com!