11 Things to Pack for a Cycling Tour (Ladies Guide)
We're expert cycling travelers and we love helping you. BookCyclingHolidays is the largest cycling travel website with 26 unique listings in 236 destinations around the world.
Discover Cycling Holidays now
Going on a cycling trip is probably one of the most exciting things you will do in your lifetime, but not overly exciting, if you know what I mean. It's like one of the best road trips ever, full of adventures but also plenty of opportunities to relax. Especially if you go with a group led by an experienced cycling holiday organizer, you will come back from your vacation energized and with an increased love of biking and sightseeing.
The only thing that could get between you and this desirable outcome is forgetting a few essential items home. It's true that some can be picked up along the way, but if you stick by a good packing list, you will minimize any discomfort and time-waste. This way, you will be free to focus on enjoying your amazing cycling holiday.
Credit: Rei.com
Here are the most important things to take with you on a cycling holiday to ensure that you get the best experience. The list has been created with ladies in mind, but most of the items on it will definitely come in useful to men as well.
In fact, if you are the one to remember bringing these things along, you can also lend them to other people in the group in case they forgot theirs.
1. A bike helmet or a head cover
Credit: Forbes.com
The best option for safety is to wear a biking helmet, of course, because it can protect you from serious injuries in case you fall. Some people are opposed to biking helmets, but there's no question that they bring more safety to the wearer.
Still, in case you are not planning to cycle too fast and it's too hot for a regular helmet, you could still consider a simple head cover for solar protection.
It doesn't matter if it's a scarf you can wrap around the top of your head, a cap or a stylish casual hat, this is up to you and your personal preferences. What matters is to have something to wear on your head, because the hours you will spend cycling are likely to be full of sunlight.
Direct exposure to the sun rays on your head will not only warm you up excessively, but you are also liable to get sick if you spend too much time under them. Dizziness, fatigue and even nausea are common side effects of direct sunlight on your head for prolonged periods of time.
It's best to stay safe and wear a helmet or at least a hat whenever you go cycling for more than half an hour, even if the day seems chilly. Personally, I would pack both for a cycling trip, so I can wear the helmet on the bike and the head cover during walks off the bike.
2. Sun protection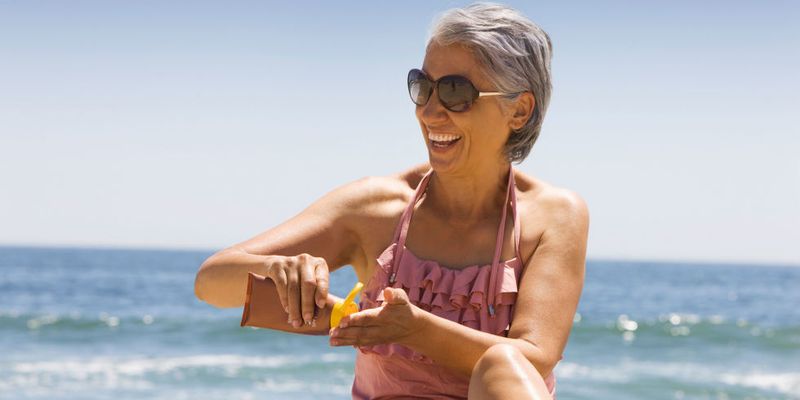 Credit: Netdoctor.co.uk
On the same note, sun protection for your skin is equally important. Not only do you risk long term side effects for going out in direct sunlight (like melanomas), but the short-term ones can be an inconvenience, too. Who could enjoy their cycling holiday when they have sunburns to nurse on their nose and shoulders, you know?
Furthermore, if you have a lighter skin color and blue or green colored eyes, you are even more exposed to both categories of effects. The phenotype classification and associated studies indicate that those who get sunburned easier are also at a higher risk for melanomas due to sun exposure, too.
I'm sure you already know all this, but a kind reminder doesn't hurt. Just bring a generous bottle of high-factor sun-protection lotion along and rub it on all exposed skin areas before leaving for a new cycling session.
Take extra care to rub the lotion on more exposed areas like shoulders, back of the neck, the hands and forearms, as well as your feet, if you will be wearing sandals. Look for a formula that specifically says it provides both UVA and UVB protection. A lotion consistency is also preferable, because it's easier to rub in and to absorb, especially if it comes in a spray bottle.
If you can find a solar protection lotion that can be used both on the skin and on the body, it's perfect. But, if you know yourself to have sensitive skin that can only 'take' particular types of cream, you will probably need separate sun protection creams for the body and for your face.
3. Sunglasses
Credit: abc.net.au
Your eyes should also benefit from protection against sunlight, even if you go cycling in an area known to be chiller or shady. At the same time, it's preferable to invest in a pair of sports sunglasses, and even cycling sunglasses.
These are designed to be easy to wear, to not fall off while you cycle, and to provide high amounts of solar protection while also giving enough visibility. Just as with sun protection lotion, it's important for the glasses you choose to provide both UVA and UVB ray protection.
4. Cycling gloves
Credit: Road.cc
If you will spend more than 2 hours a day cycling, depending on the exact cycling holiday style that you opt for, you will also need cycling gloves. Wearing this special equipment will help your hands become less sore and keep your grip steady on the bike handle.
Most biking gloves are fingerless and come in different styles and colors, so you can choose the ones that appeal to you most. If you go cycling during autumn or winter, you can also consider full-fingered gloves.. For warm destinations, you can wear fingerless gloves, only for the improved grip and the hand fatigue prevention.
5. Active socks
Credit: Thedailywant.com
You may wonder why socks are so important for a packing list of cycling essentials and why regular cotton socks aren't pretty much the same thing. The truth is that long periods of time spent cycling (or running, for that matter), will reveal the difference between active socks and regular cotton socks right away.
Active socks are designed in a way that makes them keep all moisture away from your feet, draining it towards evaporation through the special mini-ditches in the fabric. Furthermore, the special cotton blends that they are made of minimizes friction, effectively preventing blisters and sore feet. Without active socks, you can expect blisters to occur especially in the areas where the shoe ends and its wedge rubs against the foot.
To stay on the safe side and ensure that no discomfort disrupts your beautiful cycling holiday, pack at least 3-4 pairs of active socks. You can find them with most brands offering running shoes, as well as in specialized cycling equipment shops. I prefer shopping for active socks online. If you see some pairs of men's active socks that you like, you can of course go for those, too, provided the size fits.
6. Layered clothes
Credit: Totalwomencycling.com
It's important not only to pack clothes appropriate for the weather in the place you are going, but also to have layered outfits that can be built up or down depending on momentary temperature changes. A biking jacket on top of a T-shirt is a great idea, and so is a biking jersey.
If you're sure the weather will be warm, you can stick to the jersey directly while you cycle, without the need for a jacket. Still, you might need a warmer coat during evening walks, so it's best to just pack both types of items. The whole list of things you need to pack for your bike trip will still fit into a small to medium trolling luggage.
7. A rain poncho
Credit: Ivajean.com
You also need to have a protection against sudden bouts of rain, beyond the biking helmet that keeps your head and hair dry. The best choice is a rain poncho, because unlike a rain coat, it can be freely draped around your entire body and the backpack or belt pouch you will also carry with you.
You should opt for a vividly colored poncho, to make yourself easier to spot for the rest of your group, just in case the rain is bad enough to restrict visibility.
8. Bike shorts and leggings
Credit: liv-cycling.com
Again, switching between these two types of legwear depends on the weather, and if you're not sure about it you can always send out a message to the cycling tour organizer to ask for some clothing tips. Still, to be on the safe side, it's maybe best to bring along a pair of each, so you can alternate between them according to mood, too.
Both the specially designed bike clothes and cycling leggings are easy to wear and minimize the friction between your body and the saddle. They are normally often padded, reducing the discomfort you may feel starting with the second day of your tour. You can find bike shorts and leggings in any major sportswear chain of stores, like Rei, Decathlon, Adidas or Nike.
9. Lip balm, hand cream and other moisturizing toiletries
Credit: Terapeak.com
You probably pack such items up for any trip you might take, so it doesn't seem to make much sense to see them pop up on a dedicated list of things to pack for a biking trip. But I need to stress out that you will end up needing these toiletries much more often than in your usual weekend getaway or holiday. The hours spent cycling are particularly wearisome for the skin, and especially for your face and lips.
While you need to make sure you stay hydrated by carrying around a water bottle and drinking from it often, you still need to take some precaution against the drying wind which will blow around your face. Lip balm will become your best ally, along with a moistening cream.
For lip balm, there are actually brands specializing in designing lip balm versions for outdoor use, more heavy-duty than the regular lip balms. One such brand is Chicken Poop, pictured above, which is really good, in spite of its unsavory funny name.
I usually put on the hydrating cream and then sunblock on top, but if you dislike layering skin care products you can just apply the sunblock in the mornings and keep the more intense moisturizer for the evenings. Hand cream and foot cream (or a 2-in-1 formula for both purposes) are also worth taking along.
10. Knee and elbow pads
Credit: Totalwomenscycling.com
The knee and elbow pads for cycling fall into the same category of controversial items as the helmet, at least for some members of the cycling community. Some of them feel that too much pressure is being put on cyclists to keep themselves safe, instead of creating an environment where they are made safe by the attention of drivers and other traffic participants.
Considering that on a cycling holiday you will probably not encounter a lot of cars, this isn't the issue. Still, elbow and knee pads are a useful addition to your equipment even if cycling alone on a nice biking lane with the sunset at your back, because little accidents and slips do happen even in the absence of cars or crowds. Especially if you are a beginner, you are bound to fall a couple of times, and by wearing special knee and elbow protection you can make sure you don't let injuries ruin your mood.
11. Your own saddle if you prefer it (optional)
Credit: Bikeradar.com
Some organizers will offer you bikes during the cycling holiday, others will ask you to bring your own. You need to clear this up with them by sending an inquiry, and they will be happy to assist you. But even if the bikes are readily available at the location of the biking retreat you join, you may still want to bring along your own saddle, especially if the program features more than 2 hours of cycling per day.
Women's bike saddles are slightly different from men's, and even if a beginner's eye can't tell one type apart from the other, your lower body will definitely feel the difference.
You can maximize your chances for a comfortable saddle if you go shop for it in a major sports store and you ask a shop guide to assist you in choosing the best one for you.
Wrapping it up
Pack these items for you cycling tour and you will be prepared to take on the new adventure. You can also add a few extras to your trip, like a backpack for taking water and some essentials with you on the day cycling bouts, or other extra toiletries and meds you might need. But, all in all, these are the best choices for your packing bag, and if there's anything else you may need, the tour organizer or local shops will be able to provide it.
Have fun on your cycling tour, enjoy your respite and making friends, and be ready for the unique change of perspective which comes from any good travel experience!
---
For a great experience, especially if you are not used to traveling by yourself, opt for a guided cycling tour. You will experience more than just the cycling: the guides will immerse you in the food and culture of every area you visit.